Press Coverage - The Sunday Business Post
Catherine Cleary from The Sunday Business Post wrote the following article for the property section.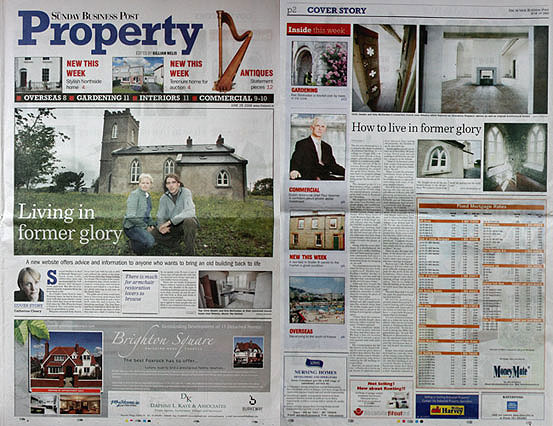 Living in Former Glory
A new website offers advice and information to anyone who wants to bring old buildings back to life.
Several builders looked at Darragh Musgrave's thick stone walls, rubbed their chins and suggested the bulldozer and dumper truck approach. But the environmental scientist wanted to bring the house back to life. As it hadn't been lived in since Victorian times, he had to keep the stout walls that stand almost a metre thick, which have been on the family farm since the 1700s. When his house is finished, they will shelter his family for generations to come.
Musgrave returned from Australia to east Cork with his wife in 2001 and realised the extent of the property boom when they began looking for a home. They looked at the county development plan, which seemed to support restoration and retention projects, and talked to a local planner about restoring an old barn on the family farm.
The gable end of what would have been a two-storey stone house had long been demolished and a barn built onto the end to house the threshing machine. The first floor had been removed to allow the machine to be put into the shed, so what they had was a shell 12 metres long by six metres wide. To turn it into a house they will pin the old walls into an internal steel frame and add a new timber-frame extension.
There are two kinds of property buyers when it comes to restoration - those who shudder at the sight of crumbling buildings and see nothing more than a money pit and the people who look at them and think of character and potential. Now, a new website has been set up to appeal to those people who are likely to see a baptismal font as a potential wetroom accessory. The site, www.formerglory.ie, is a resource for those in search of a historic building, be it a cottage on a boggy field, a deconsecrated church, a long empty schoolhouse, railway station or a sumptuous castle.
The site was one of the resources Darragh Musgrave used in planning his project. Set up by Chris Deakin, Former Glory is a property listings page showing "old and interesting properties for sale in Ireland". The cheapest property is a Roscommon cottage complete with tin roof for €85,000, while the restored projects include a newly-built castle in Kenmare for €10 million.
The inspiration for the website came from Deakin's own grand design, the transformation, with his partner Orla McCluskey, of a deconsecrated County Galway chapel into a home. After three years of work Bookeen Hall, the derelict chapel at Killtullagh outside Athenry that they bought for €165,000, is almost ready.
Underfloor heating, nine sky lights and window seats in the old bell tower are a few of the additions that have been painstakingly added since the couple bought the chapel in 2005. Along with the usual challenges of a refurbishment, the couple had to tackle a building that had been used as a part-time community hall since it was deconsecrated in 1920; a basketball hoop was hanging on one wall.
The planning process for the listed building was not overly complicated, Deakin says. Finding a builder was key to the success, and they used one who had done restoration work on his own Georgian home. Although they bought the building without planning permission, they found the local authority amenable to their ideas for turning the place of worship into a home. They were allowed to refurbish and add a small extension. The eventual design kept the double-height space in the entrance hall, to preserve the feeling of arriving into a chapel space.
"Other than the windows and the double height there were no other original features," Deakin explained. "It was completely empty. There were no pews and even the floor had been taken out. We had a few old wooden beams but it was just a space with exposed stone walls and a tower."
The transformation has left the exterior of the chapel looking the same but given them a modern clean interior. The idea for the website came to Deakin after spending long hours searching for old buildings he could afford.
Searches on general property websites were throwing up dozens of suburban semis of no interest to those seeking old properties. So, Deakin set up the specialist site. Estate agents can pay an annual fee to have their old properties listed and anyone wanting to sell directly can also list a property on the website. "Most of the business comes from owners of properties putting up the properties themselves," he says.
There is much for armchair restoration lovers to browse. The game of what-can-I-buy-for-Dublin-prices is especially interesting with some of the more modest houses. Two of the best value properties on the site are an old schoolhouse in Kerry, with full planning permission, for a four-bedroom conversion for €170,000; and an 18th-century stone farmhouse built around a courtyard near Nenagh in Tipperary for €250,000.
The site also features a long series of photographs of his own chapel conversion from start to almost-finished. Deakin has had a lot of hits on his website from Britain and the US. The site also includes listings of specialists who have experience in restoring old properties.
Is he concerned that the love affair with property is finishing in the current downturn? "I suppose because these buildings are so unique they might not be as affected as others," he says. There is also the hope that many of the properties are in the price bracket of second homes, rather than primary residences requiring mortgages.
Back in east Cork, Darragh Musgrave did not have any great difficulty raising a mortgage for the work on his old farmhouse. There were the usual stringent rules about showing savings and proofs of salary, "but we are lucky in that the building at the end will be worth more than the mortgage". The new floor slab is in and the pipes for underfloor heating have been laid. He will be installing a ground source heat pump for central heating and is hoping to insulate and future-proof the house so well that it will have a respectable B energy rating when it is finished.
It is not a protected structure and as a home for farm machinery there are no cornicing details or fireplaces that have to be protected. "It was last lived in during the 1880s, four generations ago," he said. But Musgrave is determined to use the old unpointed stone walls, not only because of their character but also because their reuse will benefit the environment.
Rather than waste valuable farm land on a new site, invest all the energy costs of knocking down and clearing the old site and then trucking in new concrete blocks to build a brand new house, he is doing what in the short-term will be a more expensive restoration: "We thought about all the embodied energy in the old products. We wanted to look at the build life and not just the build cost."