Press Coverage - The Sunday Times
Siobhan Maguire from The Sunday Times wrote about the growing number of beautiful ruins in Ireland that are crying out for buyers with the inspiration and funds to restore them.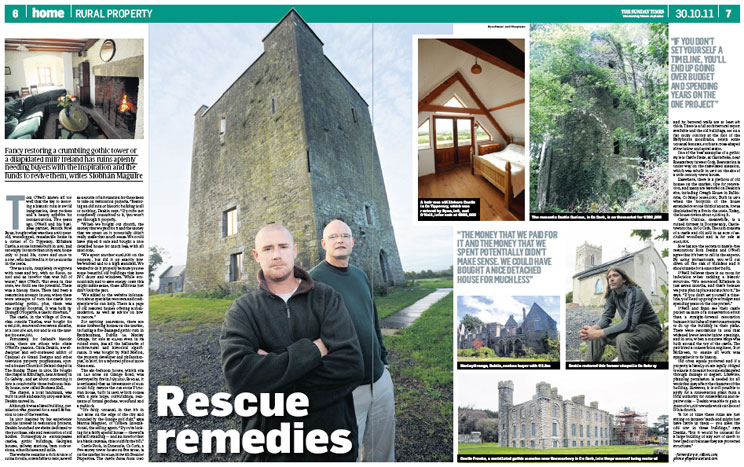 Rescue Remedies
Fancy restoring a crumbling gothic tower or a dilapidated mill? Ireland has ruins aplenty needing buyers with the inspiration and the funds to revive them, writes Siobhán Maguire.
Tom O'Neill knows all too well that the key to restoring a historic ruin is a wild imagination, deep pockets and a hearty appetite for reconstruction. Five years ago, O'Neill and his business partner, Patrick Noel Ryan, bought what was then a 500-year-old, waterlogged, ramshackle home in a corner of Co. Tipperary. Killahara Castle, a stone fortress built in 1550, had sat empty for more than 100 years, home only to pond life, crows and once to a cow, who had lived in it for 18 months in the 1980s.
"It was a ruin, completely overgrown with trees and ivy, with no floors, no roof and an interior that was full of water," says O'Neill. "But even in that state, we could see the potential. There was a history there. There had been a restoration attempt in 1852, when there were attempts to turn the castle into something gothic, plus, there was the original footprint. It was built by Donagh O'Fogartie, a Gaelic chieftain." The castle, in the village of Dovea, 5km outside Thurles, was bought for €550,000, renovated over seven months at a cost of €400,000 and is on the market for €895,000.
Fortunately for Ireland's historic ruins, there are others who share O'Neill's passion. Chris Deakin, a web designer and self-confessed addict of Channel 4's Grand Designs and other television property programmes, spotted a former Church of Ireland chapel in The Sunday Times in 2005. He bought the chapel at Kiltullagh, near Athenry in Co. Galway, and set about converting it into a comfortable three-bedroom family home, now called Bookeen Hall. The chapel, a local landmark, was built in 1808 and exactly 200 years later, Deakin moved in. Although it was a listed building, permission was granted for a small extension to one of the vestries.
In 2007 inspired by his experience and his interest in restoration projects, Deakin launched a website dedicated to the purchase, sale and restoration of old homes. Formerglory.ie encompasses castles, gothic buildings, Georgian houses, railway stations, barn conversions, schoolhouses and mills. The website remains a rich source of ruins for sale, or available to rent, as well as a source of information for those keen to take on restoration projects. "Restoring an old ruin or historic building is all or nothing", Deakin says. "If you're not completely committed to it, you won't get through it properly. When we bought our church, the money that we paid for it and the money that we spent on it potentially didn't really make that much sense. We could have played it safe and bought a nice detached house for much less, with all mod cons. We spent another €250,000 on the property, but did it up exactly how we wanted and to a high standard. We wanted to do it properly because you see some beautiful old buildings that have PVC doors and windows. While economically and to save energy costs this might make sense, these additions just don't look the part. We added to the website information about specialist restorers and craftspeople who can help. There is a page of old restored homes offering accommodation, as well as advice on how to restore."
For aspiring renovators, there are some interesting homes on the market, including a fire-damaged gothic ruin in Rathfarnham, Dublin 16. Marlay Grange, for sale at €2.9m even in its ruined state, has all the hallmarks of architectural and historical significance. It was bought by Niall Mellon, the property developer and philanthropist, in 2007, for a reported price of more than €8m. The six-bedroom house, which sits on 12.5 acres on Grange Road, was destroyed by fire in July 2010. Even so, it is estimated that an investment of €1m could fully restore the cut-stone Victorian house, built in 1850, which comes with a gate lodge, outbuildings, remnants of formal gardens, woodland and a paddock. "It's fairly unusual, in that it's in 12.5 acres on the edge of the city and bounded by the Grange golf club," says Marcus Magnier, of Colliers International, the selling agent. "If you're looking for a fairly special house - the walls are still standing - and an interior that is a blank canvass, this could fit the bill."
Castle Pook, in Doneraile, Co Cork, a five-storey tower house on five acres, is on the market for €249,000 with Premier Properties. The castle dates from 1380 and its battered walls are at least 6ft thick. There is a full architectural report available and the old buildings, set on a flat rocky outcrop at the foot of the Ballyhoura mountains, retain some unusual features, such as a cross-shaped slit window and spiral stairs.
One of the best examples of a gothic style is Castle Freke, at Castlefreke, near Rosscarbery in west Cork. Restoration is underway on the castellated mansion, which was rebuilt in 1870 on the site of a 15th-century tower house. Elsewhere, there is a plethora of old homes on the market, ripe for renovation, and many are featured on Deakin's site, including Creagh House in Ballinrobe, Co Mayo (€699,000). Built in 1875 when the footprint of the house extended over one third of an acre, it was diminished by a fire in the 1930s. Today, the house covers about 5,000 sq ft. Castle Curious, meanwhile, is a ruined fortress in Doonawanly, Castletownroche, in Co Cork. The ruin consists of a castle and old mill in an acre of secluded woodland and is for sale at €160,000.
So what are the secrets to hassle-free restoration? Both Deakin and O'Neill agree that it's best to call in the experts. By using professionals, you will cut down on the risk of blunders and it should make for a smoother build. O'Neill believes there is no room for indecision when tackling a historic structure. "We renovated Killahara in just seven months, and that's because we put a plan in place and stuck to it," he says. "If you don't set yourself a timeline, you'll end up going over budget and spending years on the one project." O'Neill and Ryan see their castle project as more of a conservation effort than a straight-forward restoration because it includes all previous attempts to do up the building in their plans. There were restorations in 1852 that widened lower-level window openings, and in 1904, when a concrete barge was built around the top of the castle. The pair hired a conservation engineer, Ivor McElveen, to ensure all work was sympathetic to its history.
Old often equals protected and if a property is listed, you are legally obliged to ensure it does not become endangered through damage or neglect. Likewise, planning permission is needed for all work that may affect the character of the building. However, it is still possible to apply for a conservation grant from a local authority for conservation and repair works - Deakin was able to gain a grant of €13,000 towards work on the roof of his church. "A lot of time these ruins are just sitting on farmers' lands and might just have cattle in them - you meet the odd cow in these buildings," says Deakin. "But it would be unusual for a large building of any sort of merit to be wiped out because they are protected structures."