Martello Tower For Sale in Co. Cork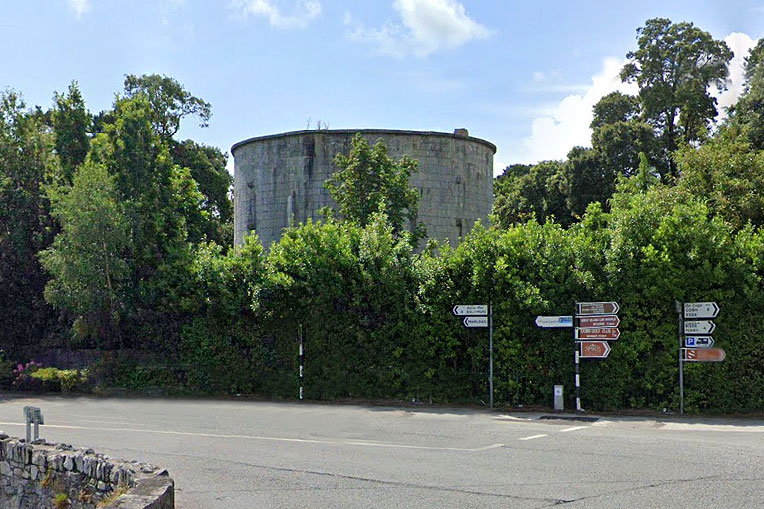 Martello Tower
Belvelly
Cobh
Co. Cork
Historic and fully restored Martello Tower built in 1813 and now a unique family home in a fabulous waterside location.
Price: €800,000
Agent: DNG Murphy Condon
Contact: Kate Kearney
Office: +353 (0)21 4821788
Mobile: +353 (0)87 2978075
Email: katekearney@dngkevincondon.ie

The Martello Tower is a three bedroom family home with further potential standing on approximately one acre of mature gardens. The property commands panoramic views of the Estuary and Belvelly Bridge which is an elegant stone arched piece of architecture linking the Great Island to the mainland. Fota Island Resort and Golf course are nearby. This course is one of Ireland's premier golf courses and the Irish Open was played here in 2002.
The Martello Tower was built in 1813 and is steeped in both military and colloquial history. It was built to protect the coastline from a possible French invasion. It was one of five defensive structures built in Cork Harbour. This Martello Tower has lasted a long and solid and lifetime since it's establishment, however the interior of the tower did sustain some damage in the 1920s during the Civil War when an explosive device was detonated, causing damage to its interior walls, flooring and a section of its domed roof. However, the solid exterior was untouched.
Today you will not see hide nor hair of the civil war attack and will be amazed by the restoration work carried out, while retaining many of the original structural features. The previous owners skillfully designed and added their own touch to make this a stunning, unique, and secure functional family home.
The property stands on an acre of garden and trees. The tower itself is 1500 sqft and renovated to a new glory with a living quarters, master bedroom with an en-suite bathroom, main bathroom, one double bedroom and one single bedroom. The top is an open roof terrace that has potential for further use with the addition of a glass dome roof subject to planning.
Upon arrival on the roof you once again step back in time to both military and colloquial history. From here you will fully appreciate the impressive width of the external walls. Step up onto the observation platform and enjoy the scenic views of Fota Island and a 360 degree view of the region that includes Belvelly Castle, just a few hundred meters away. The pivot from the original cannon is still in place and serves as a reminder of the past military history. This space has immense potential subject to planning.
The garden is a haven of calm and tranquility populated by mature trees and studded with hundreds of shrubs, including Azaleas Rhododendrons, Camellias, a 200 year old Olive tree, two varieties of chestnuts, and a walnut tree to mention but a few.
The channel is a special area of conservation and a significant natural tidal wildlife area, which is primarily famous for it's many species of birds, and a favourite of ornithologists.
The Martello Tower has a stone wall exterior and electronic gates and provides easy access to all routes, including the Cork to Waterford road, the Jack Lynch Tunnel, the Dublin road, Cork Airport, etc.
BER: Exempt