Period Property For Sale in Co. Kilkenny
Mill Lane
Callan
Co. Kilkenny
Light filled three storey home requiring refurbishment with five bedrooms on mature secluded grounds (circa 1 acre) with a gated entrance and a selection of outbuildings.
Price: €325,000
Agent: DNG Ella Dunphy
Phone: +353 (0)56 7786000
Email: info@dngelladunphy.com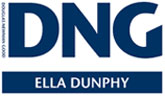 Mill Lane Callan has been a family home for generations. This light filled three storey home has great character featuring five bedrooms, mature secluded grounds (circa 1 acre) that provide the opportunity to be self-sufficient in fruit and vegetables, a gated entrance and a selection of outbuildings. Overall, the property is in good condition and can easily be transformed into an excellent private residence. It is an exciting refurbishment and renovation project.
Located in the heart of Callan town, with many amenities on its doorstep, the property also has considerable residential development potential, subject to the granting of appropriate planning permission. Viewing is a must!
The accommodation includes a spacious entrance hall, three large reception rooms and one shower room (ground floor), three large bedrooms and a family bathroom (first floor) and two large bedrooms (second floor). Features include original fireplaces, original pine flooring and original sash windows.
Callan is a blossoming town in a prime location between Kilkenny and Clonmel. It is 16km to Kilkenny, 27 km to Clonmel and 56 km to Waterford City. The town has historic landmarks and is included in the Rural Regeneration project. It benefits from public transport connections and has a range of good schools, including primary and secondary. The town has supermarkets, banks, a post office, health centre, community facilities and other professional services. There are many amenities nearby including Callan Golf Club and GAA Club.
The following areas of interest are within easy walking distance of the property: The Abbey Meadow, The Edmund Rice Heritage Centre, Callan Workhouse, Friary Walk.
Additional photos available on request.