Period Home For Sale in Co. Cork
Mount Eaton House
Cobh
Co. Cork
Period home with stunning features measuring 4400 sqft built in 1810, extended in 1880 and now requiring upgrading on a 1 acre site.
Price: €460,000
Agent: Johanna Murphy & Sons
Contact: Johanna Murphy
Mobile: +353 (0)86 2626026
Email: info@johannamurphy.com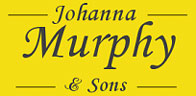 Mount Eaton exudes elegance, grandeur, and absolute charm. The light that penetrates through the house is amazing, with a sense of space and sheer volume but still with an air of manageability. The house was built in 1810 and has all the characteristics of it's era. The extension which was put on in 1880 is representative of Victorian architecture with its use of full-height bay windows and dormer windows. Not only does the extension add more room but it adds to the overall look of the property.
The garden is another uplifting feature of the property and almost has an Italian feel to it, tropical even. There are some beautiful trees, flowers and shrubs hidden away amongst the overgrowth.
Mount Eaton House is a detached house measuring 4400 sqft on an acre of land set in a housing estate. You would never see it but once inside the gates you are faced with this impressive and quite intriguing property.
The stunning features include a winding staircase that winds up to the two floors, 10ft high ceilings and rooms with lovely proportions.
The house faces south over the harbour and the site itself is extremely private.
The house today does need work and needs a loving pair of hands to bring it back to it's former glory. Once inside you will see it deserves it. The whole package once renovated would make an amazing home.
There is a double garage attached to the house to the east wing and plenty of nooks and crannies in the garden itself.
You enter the property via gates which lead to the main entrance of the house. The driveway is the property of Mount Eaton House but the owner of the land to the rear has a right of way which by no means interferes with the privacy of the house.
Mount Eaton is located to the east of the town, only a 10 min walk to the centre of the town and train station, local shops and schools. There is a bus stop only up the road, so location wise you are in an ideal spot.
This is a fantastic opportunity to acquire a piece of history.
BER: Exempt