Self-Catering Accommodation at Drum Gate Lodge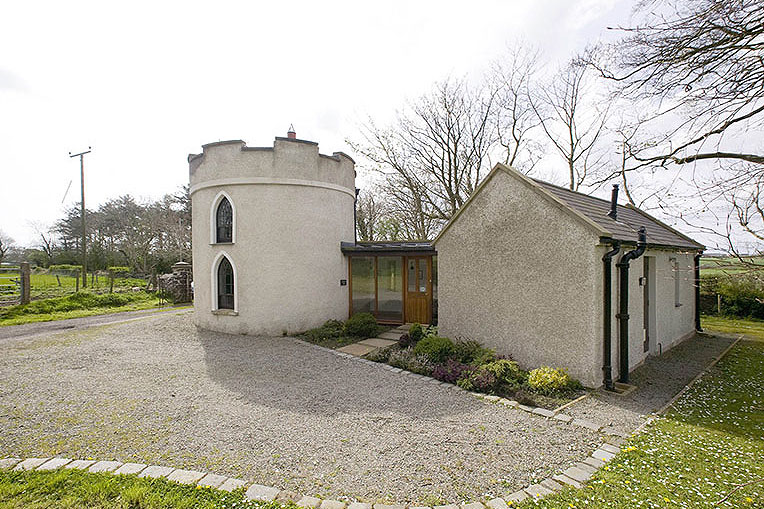 Drum Gate Lodge
Bushmills
Co. Antrim
A unique and pretty two storey gatelodge with one bedroom on a quiet country road.
Website: www.irishlandmark.com
Tel.: +353 (0)1 6704733
Email: click here…
This has been a wonderful trip. Some of the most spectacular scenery we have ever seen…then home to the Drum for good books, good wine and good food. No doubt we will be returning in the not too distant future.
Thank you for a lovely warm welcome. We had a wonderful time. Fantastic!
Third Irish Landmark property we have visited and yet again we were not disappointed. Another great house, wonderful location and a fantastic holiday had by all!
The Drum is a unique and pretty two storey gatelodge situated on a quiet country road, and its rustic setting makes it an ideal romantic retreat from the stresses of everyday life.
It was built at the end of a long avenue of beech trees at the western edge of the Ballylough Estate in 1800, by Archdeacon Traill two years after he bought the estate. His family are still in residence.
No records are yet available for the occupants of The Drum before 1898, when one Lizzie Taggart and her husband came to live there. Both of the Taggarts were employed on the estate, he as a farm labourer, and she as the 'hen girl' looking after the geese, ducks and hens. The Taggart family lived there until 1962, after which it remained vacant.
Approximate location of Drum Gate Lodge, Bushmills, Co. Antrim